SBPL switches on PH's most advanced coal power plant; boosts Luzon supply with 500 MW

San Buenaventura Power Ltd. Co. (SBPL) on October 15 formally inaugurated the Philippines' first supercritical coal-fired power plant, which has a gross capacity of 500 megawatts (MW) and now provides additional supply to the Luzon grid.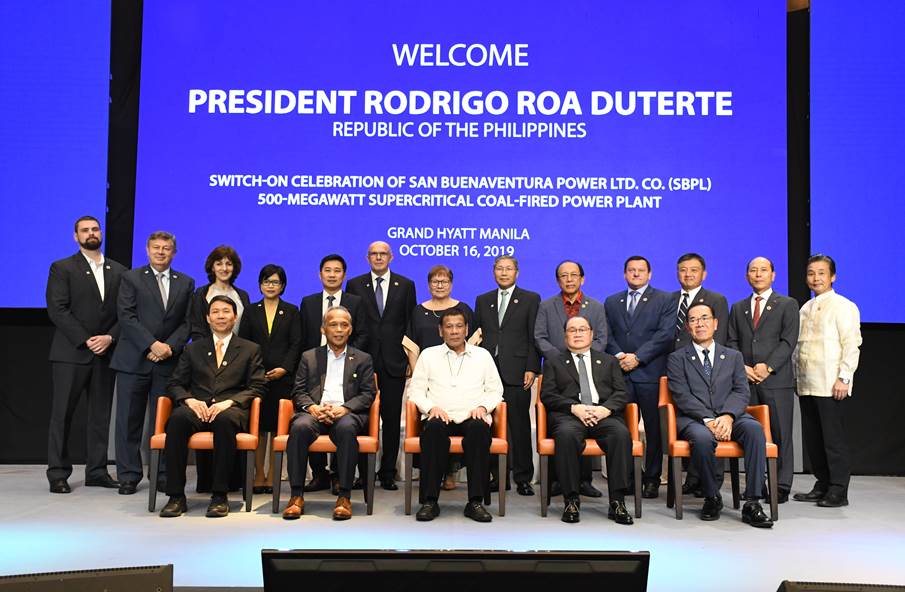 SBPL switch-on celebration. Philippine President Rodrigo Duterte graced the switch-on ceremony for SBPL's 500-megawatt supercritical coal-fired power plant held at the Grand Hyatt Manila on 16 October 2019. (Standing; from left) Black & Veatch Project Manager Josh Johnson; SBPL General Manager Frank Thiel; Cristina Thiel; EGCO Senior Vice President-International General Affairs Management Ploy Suksrisomboon; QPL-SBPL Assistant Managing Director Chaiwut Saengpredekorn; PEPOI Facility Manager Ivan Chlapecek; Elena Chlapeckova; Group CEO Mitsubishi Corporation Tokyo Head Office Kazuhiro Watanabe; Quezon Governor Danilo E. Suarez; SBPL Project Director Walter Laptew; Mitsubishi Hitachi Power Systems Director President & CEO Ken Kawai;  Daelim Industrial Co. Ltd. Chief Executive Officer Yoo, Jae-Ho; and Korean Ambassador Han, Dong-Man. (Seating; from left) EGCO Senior Executive Vice President-Business Development (Domestic) Danuja Simasathien; Energy Secretary Alfonso G. Cusi; Philippine President Rodrigo Roa Duterte; Meralco Chairman Manuel V. Pangilinan; and Meralco Power Gen President & CEO Rogelio L. Singson.
The country's most advanced operational coal plant uses a high efficiency, low emissions (HELE) coal technology that allows the plant to operate at increasingly higher temperatures and pressures to reach higher efficiencies, while significantly reducing emissions.
Similar and more advanced coal plant technologies have been the choice for new commercial coal-fired plants in many countries around the world. As a pioneer of this technology, SBPL is setting the bar higher in operating coal plants in the Philippines.
The new power plant, which started commercial operations on September 26, currently generates power for Luzon – which accounts for about 72% of the country's domestic product.
Even before the power plant started commercial operations, SBPL achieved a significant milestone in terms of project financing.
The PhP56.2-Billion power plant was partly funded by a PhP42.15-billion project finance facility – the Philippines' largest all-peso transaction to date that was put together by a consortium of local banks.
The power plant was built by the consortium of South Korea's Daelim Industrial Co. Ltd. and Japan's Mitsubishi Corp. which are both experienced engineering, procurement and construction contractors with very strong track records
The SBPL plant is a partnership between Meralco PowerGen Corporation (MGen) and New Growth BV, a wholly-owned subsidiary of the Electricity Generating Company of Thailand (EGCO).
EGCO is the first independent power producer in Thailand. It has the state-owned Electricity Generating Authority of Thailand (EGAT) as a controlling shareholder.
MGen, on the other hand, is the power generation subsidiary of Manila Electric Co. (Meralco) – the country's largest electricity distributor.
SBPL is Meralco's first majority-owned, commercially operating power plant since the company decided to return to the generation business.
The ceremonial switch-on of the power plant was led by Energy Secretary Alfonso Cusi, Energy Regulatory Commission Chairperson Agnes VST Devanadera, Ambassador of Thailand to the Philippines Vasin Ruangprateepsaeng, Mauban Mayor Marita Llamas and executives from Meralco and EGCO Groups.
An estimated 200 attendees from the public sector, local government officials, business partners, members of media, and stakeholder executives and employees witnessed the momentous event.